ÏÎËÅÇÍÛÅ ÑÑÛËÊÈ:
b) Äëÿ çàêàç÷èêîâ
Get Your Translation Right, the First Time

:: Suggestions on how companies should prepare their documents for language translation and how to choose the best translation services provider for your industry. These tips will help you to get the best results at the minimum price.
b) Äëÿ ïåðåâîä÷èêîâ
C) Äëÿ âñåõ
Glossaries of Translation and Interpreting Terminology: 1, 2::These glossaries provide an explanation to many of the terms frequently used in connection with translation and interpreting.

Giveaway of the Day

:: Get fully functional and licensed (not trial or demo!) commercial programs for free! One proggy a day. What is available today? Read in the small window below and click on it if you feel you need the app (make sure you snag it: after the time is up, the proggy goes back to full price again):
ÐÅÊÎÌÅÍÄÓÅÌÛÅ ÊÎÌÏÜÞÒÅÐÍÛÅ ÏÐÎÃÐÀÌÌÛ:
AbracadabraCompteur

:: Free WordCounter for PDF files.

AB-Euro

:: Desktop currency converter

. Freeware.

AcronymGenie

:: Searchable database of acronyms and abbreviations from various areas. Especially useful for those who don't have broadband Internet connection

. Freeware.

Avast!

:: One of the best antivirus software around

. Freeware.

AxCrypt :: A powerful, yet extremely easy to use file encryption program

. Freeware.

Convert

:: The best desktop-based converter I've seen

. Freeware.

Deja Vu

:: TM CAT tool of my choice for the moment

. Freeware.

Download Master

:: The best download manager that I know (and I've tried many of them). The interface is only in Russian. Freeware.

Google Deskbar

:: Search the Web with Google from any application. Freeware.

FastStone Photo Resizer

:: In a quick and easy batch mode convert, rename, resize, crop, rotate your images, add watermarks

. Freeware.

FineCount

:: Quickly count characters, words, lines, pages, repetitions in different document formats - MS Word, Excel, PowerPoint and XML, HTML, PDF and others. Freeware/shareware.

PrimoPDF

:: Free tool for high-quality PDF creation

Skype

:: Simple app that enables you to make free calls anywhere in the world. Great for business communication. Must-have!

Freeware.

SnagIt

:: Great screen capture software that captures images, text, and video from your Windows desktop

.Shareware.

Time Stamp

:: Track time spent on a project. Freeware.

UltraMon:: Indispensable utility for multi-monitor systems

. Shareware.

Unlocker :: Windows Explorer extension allowing you with a simple right-click on a file or folder to get rid of error message such as 'cannot delete folder: it's being used by another person or program'

. Freeware.

Virtual Keyboard

:: You will be able to type in Russian even if you don't have a Russian keyboard. Freeware.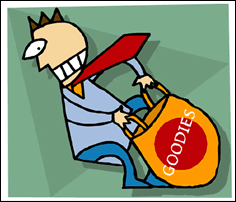 ---
Copyright © 2007-2010

NK Translations & Voiceovers